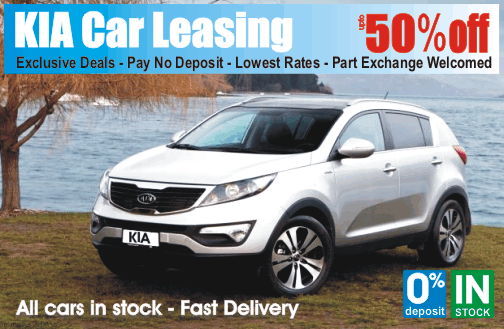 KIA Car Leasing - Up to 50% Off
We offer exclusive KIA Car Leasing Deals that do not require a deposit and some just a small one. All cars offered with Warranty.
Kia Motors - A South Korean vehicle manufacturer, famous for offering a range of practical vehicles with extended warranty, like the Kia Rio and Picanto and more roomy like the Kia Sportage SUV for bigger family needs.
KIA Rio

The Kia Rio is now one of the top superminis. Anyone looking for a car in this sector needs to give ...

£97.50

---
KIA Picanto

This is one of the cheapest cars on the market and its interior can shame more expensive models in t...

£97.60

---
KIA Rio 3 Door

The Kia Rio is a very decent supermini that has one thing on its side, value. Anyone looking for a v...

£98.78

---
KIA Soul

The petrol engine in a Kia Soul give decent performance, and the cabin has plenty of passenger space...

£109.29

---
Kia Venga

Although many would say it is a pricy car to buy, that's why leasing it is a great option. Kia's Ven...

£126.95

---
KIA Optima

The Kia Optima certainly has its strengths. The Kia Optima is a very good-looking family saloon that...

£129.99

---
Kia Ceed

An excellent proposition, bolstered by the exceptional long term warranty – Good quality build and m...

£134.98

---
KIA Ceed Estate

This Kia estate vehicle is well worth considering, as the Kia Ceed Sportswagon can compete with the ...

£148.76

---
Kia Sportage

The KIA Sportage comes in either 2 wheel or 4x4 wheel drive. The front wheel drive diesel engine ver...

£149.99

---
KIA NIRO

The Kia Niro is a hybrid that uses an electric motor and battery pack to help boost the performance ...

£169.78

---
KIA Sorento

Practical, safe and relatively affordable, the Sorento has a very spacious cabin, a strong diesel en...

£225.75

---
Time4Leasing offer exclusive deals, pay no deposit, brand new or approved used Kia cars, lowest rates and part exchange. The Kia range of economical vehicle leasing offers are suitable for personal users.

Latest New Models

Best Deals in Stock


1 to 2 Weeks Delivery
Time4Leasing Customers Love Our Services
More than just a vehicle leasing broker. Deals include 0% deposit leasing and finance for brand new and approved used cars. Plus we offer solutions for individuals with a good and bad credit history past.

Another Happy Time4Leasing Customer



You are in good company as we always aim
for 100% customer satisfaction