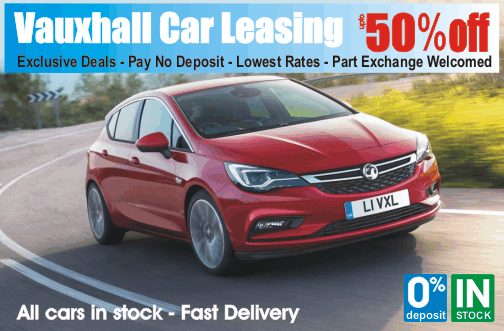 Vauxhall Car Leasing - Up to 50% Off
We offer exclusive Vauxhall Car Leasing Deals that do not require a deposit and some just a small one. All cars offered with Warranty.
Vauxhall - One of Britain's long lasting vehicle manufacturers, famous for offering a range of vehicles, like the best selling Corsa, Astra and Insignia to the latest Mokka and Antara SUV's for city and motorway driving. Also the popular Zafira 7 Seater for bigger family needs.
Vauxhall Astra (Ex Demo)

Sport Black cloth, 1400 cc, Air Conditioning, Alloy Wheels, Electric Windows, Central Door Locking, ...

£96.95

---
Vauxhall Agila

The Agila which has standard features on all models: 60/40 split folding rear seat back - Driver's ...

£98.29

---
Vauxhall Corsa

The Corsa is available in manual or automatic, really cheap to insurance, specially for new drivers....

£98.67

---
Vauxhall Astra Estate

The Vauxhall Astra Estate is classy and comes with a spacious cabin which is a real highlight. Also ...

£104.32

---
Vauxhall Meriva

Vauxhall knows how to build reliable, safe cars, so the fact that the Meriva offers a five star Euro...

£107.39

---
Vauxhall Corsa (Used)

Fantastic offer, Economical 3 Door, Stop Start Technology, 55 MPG, MP3 Connectivity, Alloys, Cruise,...

£108.99

---
Vauxhall Adam

The Vauxhall Adam has bags of style and luxury equipment, and comes with a classy cabin. However, se...

£114.95

---
Vauxhall Astra

The Vauxhall Astra is a classy car with a spacious cabin which is a real highlight, looks great insi...

£117.39

---
Vauxhall Astra GTC Coupe

The Vauxhall Astra GTC, Coupe is a sharp-looking coupe with brilliant handling to match. The Astra G...

£119.29

---
Vauxhall Insignia (Used)

This Vauxhall Insignia used ex demo car can be purchased with finance. The prices for the Vauxhall I...

£119.99

---
Corsa VXR

All Corsa VXR models come with three-doors, a turbocharged 1.6 petrol engine with 201bhp, a limited-...

£130.78

---
Vauxhall Zafira

The Zafira is fun to drive and cheap to run. The Zafira is as roomy as any mid-sized MPV, but it's b...

£131.24

---
Vauxhall Mokka

The Vauxhall Mokka has a great appeal, a good all round SUV for fun days out. The Mokka has great go...

£135.44

---
Vauxhall Antara

The Antaraís diesel engines are smooth and powerful. The handling is good for a 4x4 and the interior...

£140.09

---
Vauxhall Insignia

The Insignia is classier, more desirable and quality is impressive compared to rivals. The Insignia ...

£149.89

---
Vauxhall Insignia Estate

A genuinely elegant and handsome estate competitively priced, very stylish and backed by a lifetime ...

£153.88

---
Astra VXR

The Astra VXR is a hot hatch and if you go for the 2 Litre supercharged model is will give you a mas...

£186.44

---
Vauxhall Cascada

The Vauxhall Cascada is a comfortable four-seat drop-top, thatís quiet and spacious enough for every...

£232.78

---
Vauxhall Ampera

The Vauxhall Ampera gives all the benefits of an electric car, but with none of the drawbacks, says ...

£283.23

---
Vauxhall VXR8

The Vauxhall VXR8 is a real beast of a sports car and great fun to drive it. It has a lot of pace fo...

£345.23

---
Time4Leasing offer exclusive deals, pay no deposit, brand new or approved used Vauxhall cars, lowest rates and part exchange. The Vauxhall range of economical vehicle leasing offers are suitable for personal and business users.

Latest New Models

Best Deals in Stock


1 to 2 Weeks Delivery
Time4Leasing Customers Love Our Services
More than just a vehicle leasing broker. Deals include 0% deposit leasing and finance for brand new and approved used cars. Plus we offer solutions for individuals with a good and bad credit history past.

Another Happy Time4Leasing Customer



You are in good company as we always aim
for 100% customer satisfaction