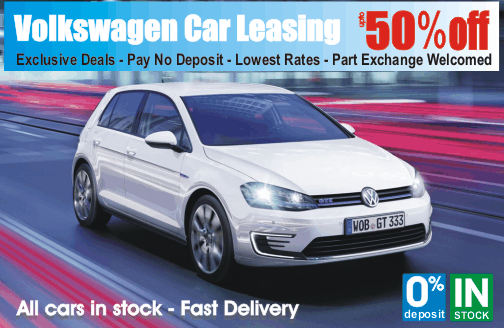 Volkswagen Car Leasing - Up to 50% Off
We offer exclusive Volkswagen Car Leasing Deals that do not require a deposit and some just a small one. All cars offered with Warranty.
Volkswagen - A popular German manufacturer offering practical vehicles, from something economical for city driving, like the VW Up and Polo to something bigger like the Golf or Passat.
Volkswagen Up

The VW Up is a good sturdy small car with a nice balance of abilities and price. If you are looking ...

£78.29

---
Volkswagen Polo

The Volkswagen Polo is classy and comfortable and more rebust. The Polo combines a very comfortable ...

£97.34

---
Volkswagen Fox

The Fox will intrigue you in all sorts of ways. It's small enough to nip round the city, yet roomy e...

£97.98

---
Volkswagen Polo (Used)

This Volkswagen Polo used ex demo car can be purchased with finance. The prices for the Volkswagen P...

£112.95

---
Volkswagen Fox (Used)

With speed sensitive power steering, driver seat height adjustment, electronic engine immobiliser an...

£118.31

---
Volkswagen Jetta

The Volkswagen Jetta comes in manual or automatic transmission, Remote Central Locking, Electric Win...

£134.55

---
Volkswagen Scirocco

A welcomed sports car from Volkswagen - the all new stunning Scirocco is a car to be seen driving in...

£148.42

---
Volkswagen Beetle

The Beetle which has standard equipment on all models includes driver, passenger and side airbags, A...

£150.85

---
Volkswagen Passat

The Passat is family car is solidly built and looks the part, great business and family car, the bes...

£157.03

---
Volkswagen Golf

The Golf is better than ever, desirable, refined and a great car to drive, it's one of the best all-...

£157.95

---
Volkswagen Sharan

The Volkswagen Sharan is an excellent choice if you are looking for a true MPV sized vehicle that ca...

£162.75

---
Volkswagen T-Roc

The Volkswagen T-Roc has to be one of the smallest SUV vehicles in its category. Although competes w...

£169.99

---
Volkswagen Tiguan

The Volkswagen Tiguan is dynamic and classy with a smart versatile cabin that makes it a very desira...

£177.44

---
VW Golf Convertible

The VW Golf Convertible (Cabriolet) is very desirable, classy and is a well-rounded drop-top vehicle...

£181.67

---
Volkswagen CC

The Volkswagen CC is a very handsome saloon similar to the more upright Passat which can be seen as ...

£189.52

---
Volkswagen Touran

The Volkswagen Touran is a classy multi purpose vehicle (MPV). It's practical and is as roomy and cl...

£190.34

---
Volkswagen EOS Coupe

The Eos combines sophisticated engineering with stunning design to bring you one of the most desirab...

£201.67

---
Volkswagen Amarok

One of the most practical pick-ups, with a large loadbay as well as a strong engine and good ability...

£229.95

---
Volkswagen Transporter Kombi

The Volkswagen Transporter Kombi is a large and capable van. With plenty of space, an adaptable cabi...

£236.95

---
Volkswagen Golf R

The Golf R comes with all-wheel drive and boosts power from VW's 2.0 TSI petrol engine to 296bhp, en...

£278.95

---
Volkswagen Touareg 4x4

The Volkswagen Touareg 4x4, is a decent all-rounder. The Touareg will be cheaper to buy than most r...

£327.16

---
Also available are plenty of SUV bigger models like the Tiguan, Touran and Touareg 4x4 for on road to off road driving.
Time4Leasing offer exclusive deals, pay no deposit, brand new or approved used Volkswagen cars, lowest rates and part exchange. The Volkswagen range of luxury vehicle leasing offers are suitable for business and personal users.

Latest New Models

Best Deals in Stock


1 to 2 Weeks Delivery
Time4Leasing Customers Love Our Services
More than just a vehicle leasing broker. Deals include 0% deposit leasing and finance for brand new and approved used cars. Plus we offer solutions for individuals with a good and bad credit history past.

Another Happy Time4Leasing Customer



You are in good company as we always aim
for 100% customer satisfaction