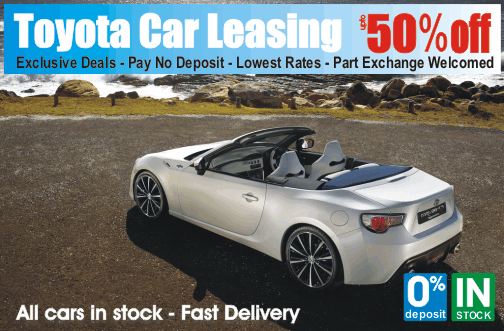 Toyota Car Leasing - Up to 50% Off
We offer exclusive Toyota Car Leasing Deals that do not require a deposit and some just a small one. All cars offered with Warranty.
Toyota - A popular Japanese vehicle manufacturer, offering a range of vehicles, like the best selling cheap city car called the Aygo or something a bit bigger and roomier like the Yaris and Auris.
Toyota Aygo

The Aygo has great looks and has very low running costs. It's solidly built, too, and comes with a f...

£88.15

---
Toyota iQ

The iQ is one of those rare things – a genuinely unique car. Slightly longer than a Smart, it aims t...

£98.67

---
Toyota Aygo (Ex Demo)

This Toyota Aygo used ex demo car can be purchased with finance. The prices for the Toyota Aygo are ...

£128.76

---
Toyota Auris

Toyota is proud of the British-built Auris Hybrid, which mates Toyota's Hybrid Synergy Drive with th...

£129.33

---
Toyota Urban Cruiser

Despite that the Toyota Urban Cruiser comes with some good engines and has a pretty funky exterior s...

£132.44

---
Toyota Yaris

The Toyota Yaris comes in three body styles - three and five door hatchback and as a five door esta...

£139.98

---
Toyota Avensis

The Toyota Avensis is a sensible, mid-size family saloon with breaking new ground that added desirab...

£154.55

---
Toyota Avensis Tourer

It is hard to fault the Toyota Avensis Tourer as it is a great all rounder vehicle. Customers repor...

£154.97

---
Toyota RAV 4

The Toyota RAV4 is certainly one of the best-looking compact 4x4s around today. Large fog lamps are ...

£162.36

---
Toyota Corolla

The new Toyota Corolla petrol electric hybrid automatic vehicle looks like the right car at the righ...

£176.12

---
Toyota Prius

The smooth drivetrain and slick ride mean the Prius is comfortable, while the cabin is roomy enough ...

£179.25

---
Toyota C-HR

The Toyota C-HR Hybrid version at very low speeds can power itself using its electric motor only, so...

£187.26

---
Toyota Verso

If you are looking for a compact MPV type vehicle, the Toyota Verso is a cracking choice. However it...

£193.33

---
Toyota Hi-Lux

With the flagship 'Hilux Invincible', it's quite simply legendary. The power train is the powerful 2...

£199.92

---
Toyota Verso-S

Several customers have said that the Toyota Verso-S isn't the cleverest mini MPV. Although it is spa...

£214.97

---
Toyota GT 86

The Toyota GT 86 is a sharp handling sports coupe that is well worth considering specially if you pl...

£279.67

---
Toyota Land Cruiser

If you are looking for a no nonsense 4x4 vehicle, you might like to consider the Toyota Land Cruiser...

£375.45

---
Also the popular economical electric powered Hybrid Prius or the off road Rav4 for bigger family needs.
Time4Leasing offer exclusive deals, pay no deposit, brand new or approved used Toyota cars, lowest rates and part exchange. The Toyota range of economical vehicle leasing offers are suitable for business and personal users.
Why wait, just apply and we will quote you the best possible deal available.

Latest New Models

Best Deals in Stock


1 to 2 Weeks Delivery
Time4Leasing Customers Love Our Services
More than just a vehicle leasing broker. Deals include 0% deposit leasing and finance for brand new and approved used cars. Plus we offer solutions for individuals with a good and bad credit history past.

Another Happy Time4Leasing Customer



You are in good company as we always aim
for 100% customer satisfaction