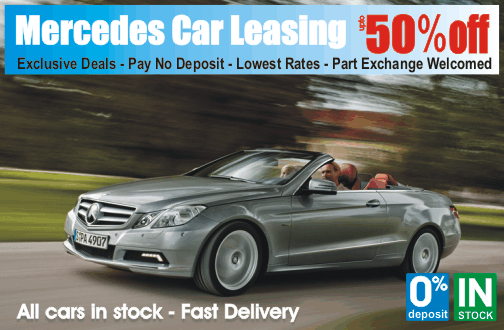 Mercedes Car Leasing - Up to 50% Off
We offer exclusive brand new and approved used Mercedes Car Leasing Deals that do not require a deposit and some just a small one. All brand new Mercedes offered with Free Warranty and come with free delivery and road tax.
Mercedes Benz - A renowned German manufacturer offering luxury high performance vehicles, from the Mercedes A Class for city and motor way driving, to something more luxurious and spacious, like the C and E Class on contract hire or PCP leasing.
Mercedes-Benz B Class

The B-Class engines combine their predecessorsí impressive performance with significantly reduced fu...

£149.78

---
Mercedes C Class

The C-Class a successful blend of Mercedes-Benz values, contemporary edge and sporty, great to drive...

£188.94

---
Mercedes A Class

The Mercedes A-Class scores well for space, safety and image. A very reliable vehicle which is a fac...

£189.95

---
Mercedes GLA Class

The Mercedes GLA is as worthy rival for any mid range MPV and the cheaper versions of the Mercedes G...

£199.86

---
Mercedes CLA

With the Mercedes CLA you get lots for your money if you lease it. The Mercedes CLA looks great and ...

£199.99

---
Mercedes SLC

The Mercedes SLC roadster holds an athletic stance and is complemented by dramatic bodystyling - fro...

£205.65

---
Mercedes E Class

The Mercedes E Class is synonymous with quality, comfort, power, prestige, refined engines and luxur...

£224.99

---
Mercedes C Class Coupe

The Mercedes C-Class Coupe is likeable in many ways, is refinement, the ride is very comfortable and...

£226.16

---
Mercedes C Class Estate

The Mercedes C-Class Estate is a great estate car. The Mercedes C-Class Estate has a spacious cabin ...

£227.23

---
Mercedes E-Class Estate

Mercedes E-Class Estate comes with lots of space, very refined, luxurious, comfortable and powerful ...

£244.82

---
Mercedes E-Class Cabriolet

The Mercedes-Benz E-Class Cabriolet is a four-seater convertible that won't leave rear passengers wi...

£244.98

---
Mercedes E-Class Coupe

Comfortable and well priced, powerful and exciting to drive, very refinement with a quality look and...

£248.97

---
Mercedes GLC

The Mercedes GLC is a super-luxurious SUV offering seven-seat practicality. There's space for seven ...

£265.42

---
Mercedes CLS

The Mercedes-Benz CLS is a hugely desirable car that offers strong performance, impressive refinemen...

£285.01

---
Mercedes Vito Dualiner

The Vito can be adapted easily to meet your specific requirements and comes with 7 Seats. Whether yo...

£296.95

---
Mercedes C Class Cabriolet

There is no need to feel guilty with a Mercedes C Class Cabriolet, specially if you a leasing one, b...

£299.99

---
Mercedes M Class

The Mercedes M-Class better than its rivals, a fine drive, excellent refinement and good space. Vehi...

£335.19

---
Mercedes-Benz GLE

The Mercedes-Benz GLE has moved on from its predecessor and is now one of the best luxury SUVs on sa...

£372.04

---
Mercedes-Benz S Class

Probably the best of the best, all the space and refinement you could want, with dynamics and refine...

£399.99

---
Also available is the GLA and GLC for superb on road and off road driving.
Time4Leasing offer exclusive deals, pay no deposit, brand new or approved used Mercedes cars, lowest rates and part exchange.
The Mercedes range of luxury vehicle leasing offers are suitable for business and personal users.

Latest New Models

Best Deals in Stock


1 to 2 Weeks Delivery
Time4Leasing Customers Love Our Services
More than just a vehicle leasing broker. Deals include 0% deposit leasing and finance for brand new and approved used cars. Plus we offer solutions for individuals with a good and bad credit history past.

Another Happy Time4Leasing Customer



You are in good company as we always aim
for 100% customer satisfaction