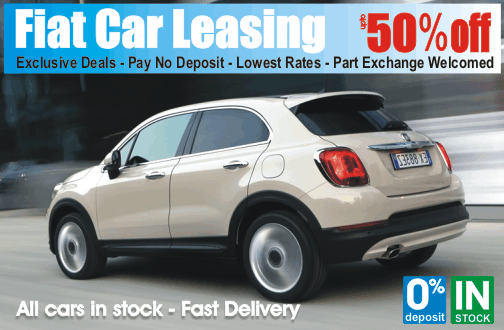 Fiat Car Leasing - Up to 50% Off
We offer exclusive Fiat Car Leasing Deals that do not require a deposit and some just a small one. All cars offered with Warranty.
Fiat - An Italian vehicle manufacturer offering a range of practical economical vehicles, from something like the Fiat 500 for city driving, or more roomy like the 500L or something bigger like the 500x SUV for bigger family needs.
Fiat Punto (Used)

Driver, Passenger And Front Side Air Bags, 15in Alloy Wheels, Air Con, Power-Assisted Steering, Elec...

£79.95

---
Fiat Bravo

Very cheap to run, but otherwise an average car in a class where excellence is the norm. The Fiat Br...

£83.78

---
Fiat Punto

The Fiat Punto which comes in 3 or 5 door is unbeatable in all versions: from the smart-looking Actu...

£89.00

---
Fiat Fiorino Combi Van

Fiat Fiorino Combi, Comfort and style, combined with the practicality of a light van, glazed and sem...

£92.82

---
Fiat Qubo

The Fiat Qubo has a great ratio of balance due to its price and kit that is on offer. This model is ...

£92.87

---
Fiat 500 Cabrio

The Fiat 500 Cabrio is a charming recreation of a much-loved classic car, with modern amenities and ...

£97.47

---
Fiat Panda

The Fiat Panda offer three engines; the sparky 1.2 8-valve (60bhp) or trusty 1.1 (54bhp) petrol engi...

£97.49

---
Fiat 500

The Fiat 500 is for life on the move, ingenious design adapts effortlessly so that itís always exact...

£102.52

---
FIAT 500 (Nearly New)

Insurance Group 3, ABS, Body Coloured Bumpers, Drivers Airbag, Electric Door Mirrors, Folding Rear S...

£103.33

---
Fiat 500x

The 500x is Fiat's SUV type vehicle with proportions that give the 500x a lofty driving position and...

£109.99

---
Fiat Doblo Van

The Fiat Doblo with or without side windows and rear seats has plenty of space for your needs and of...

£115.56

---
Fiat Panda (Used)

This Fiat Panda used ex demo car can be purchased with finance. The prices for the Fiat Panda are so...

£119.55

---
Fiat 500L

The Fiat 500L is a vehicle well worth considering, and not simply for its style. The Fiat 500L has ...

£121.97

---
Fiat Stilo

The Fiat Stilo is available with 1.2-litre, 1.6-litre and 1.8-litre four-cylinder petrol engines, a ...

£145.78

---
Fiat Scudo Van

Fiat Scudo Panorama Family, designed for your family and your free time, elegantly upholstered, with...

£194.95

---
Time4Leasing offer exclusive deals, pay no deposit, brand new or approved used Fiat cars, lowest rates and part exchange. The Fiat range of economical vehicle leasing offers are suitable for personal users.

Latest New Models

Best Deals in Stock


1 to 2 Weeks Delivery
Time4Leasing Customers Love Our Services
More than just a vehicle leasing broker. Deals include 0% deposit leasing and finance for brand new and approved used cars. Plus we offer solutions for individuals with a good and bad credit history past.

Another Happy Time4Leasing Customer



You are in good company as we always aim
for 100% customer satisfaction