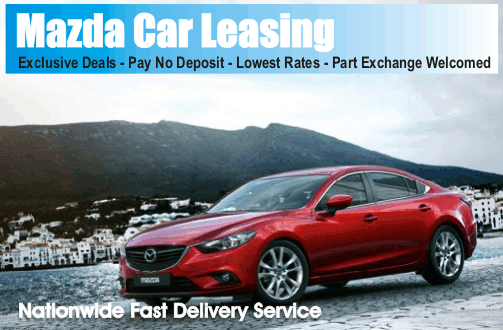 Mazda Car Leasing - Up to 50% Off
We offer exclusive Mazda Car Leasing Deals that do not require a deposit and some just a small one. All cars offered with Warranty.
Fill in one of the forms and get quoted a good deal, best possible price and contract terms.
Mazda 2

The Mazda 2 S is the base model, available with the 1.3 litre petrol and 1.5 diesel engines; the TS ...

£104.23

---
Mazda 3

The Mazda 3 power comes from Mazda's 1.6 and 2.0-litre, 16-valve engines delivering 105 and 150bhp r...

£133.55

---
Mazda MX-5

The Mazda MX-5 Convertible, the world's best-selling lightweight open two-seater sports car. Mazda's...

£134.45

---
Mazda 6

A well-rounded and hugely appealing family car that's practical, easy on the pocket and great to dri...

£175.78

---
Mazda RX8

The Mazda RX-8 that sets new standards in the sports car market for handling, performance and comfor...

£415.27

---

Latest New Models

Best Deals in Stock


1 to 2 Weeks Delivery
Time4Leasing Customers Love Our Services
More than just a car leasing broker. Offers include 0% deposit leasing and finance for brand new and used cars - plus solutions for individuals with a good and bad credit past.

Another Happy Time4Leasing Customer



You are in good company as we always aim
for 100% customer satisfaction