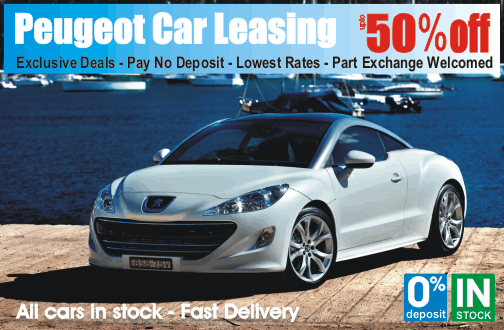 Peugeot Car Leasing - Up to 50% Off
We offer exclusive Peugeot Car Leasing Deals that do not require a deposit and some just a small one. All cars offered with Warranty.
Peugeot - A French vehicle manufacturer offering a range of economical vehicles, from something like the Peugeot 208 for city driving, or more bigger like the 2008, 3008 SUV's or even bigger like the 5008, 7 seater for versatile family needs.
Peugeot 107

The Peugeot 107 is a smart, solid city runabout that is most at home in town and pretty good perform...

£76.61

---
Peugeot 207

A very desirable and stylish super mini city car, the Peugeot 207 drives well and is still very popu...

£79.00

---
Peugeot 108

The Peugeot 108 is pretty cheap to run and the light steering and compact dimensions make it easy to...

£82.67

---
Peugeot 107 (Ex Demo)

This Peugeot 107 used ex demo car can be purchased with finance. The prices for the Peugeot 107 are ...

£89.99

---
Peugeot 208

Peugeot's 208 supermini is refined, safe and stylish. The 208 is a brilliant car with a desirable im...

£105.97

---
Peugeot 308

The Peugeot 308 with 8 engines to choose from - it's the tallest family hatch of all and makes a fan...

£109.57

---
Peugeot 2008

The Peugeot 2008 has all the strengths of the supermini 208, is classy and has a very practical inte...

£113.94

---
Peugeot Traveller

Peugeotís Traveller is a pushed upmarket vehicle and it shows. Comfortable interior packed with lots...

£116.92

---
Peugeot 207 Coupe Cabriolet

The Peugeot 207 Coupe Cabriolet is affordable and appealing for the money you pay. The Peugeot 207 C...

£137.32

---
Peugeot RCZ

The Peugeot RCZ is powered by high-performance versions of the existing 1.6-litre turbocharged petro...

£175.65

---
Peugeot Partner Combi Van

The Partner Combi not like the Berlingo, Kangoo and Doblo, the Partner Combi makes a good alternativ...

£176.86

---
Peugeot 3008

The Peugeot 3008 has a great blend of comfort, quality and spacious family car practicality. Include...

£187.29

---
Peugeot 508

The 508 a range consisting of petrol and diesel models - probably the most appealing model in the ra...

£192.56

---
Peugeot 5008

The Peugeot 5008 is a super family car with 7 seats and with pretty much all the practicality and re...

£238.97

---
Peugeot 407

The Peugeot 407 saloon which is breath taking is bold and its confident design has created a flowing...

£245.36

---
Peugeot 308 Cabriolet

The Peugeot Coupe an elegant convertible and sports car for much of its history, it's a good-lookin...

£265.95

---
Time4Leasing offer exclusive car leasing deals, pay no deposit, brand new or approved used Peugeot cars, lowest rates and part exchange. The Peugeot range of economical vehicle leasing offers are suitable for business and personal users.
Why accept anything less? At Time4Leasing you will find a wide range of Peugeot vehicles and offers. Give us a call and you will be quoted based on your needs and personal circumstances.

Latest New Models

Best Deals in Stock


1 to 2 Weeks Delivery
Time4Leasing Customers Love Our Services
More than just a vehicle leasing broker. Deals include 0% deposit leasing and finance for brand new and approved used cars. Plus we offer solutions for individuals with a good and bad credit history past.

Another Happy Time4Leasing Customer



You are in good company as we always aim
for 100% customer satisfaction