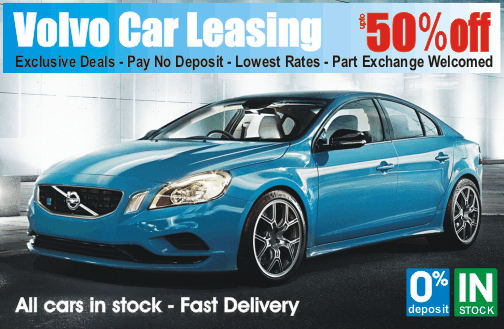 Volvo Car Leasing - Up to 50% Off
We offer exclusive Volvo Car Leasing Deals that do not require a deposit and some just a small one. All cars offered with Warranty.
Volvo - A popular Swedish manufacturer offering luxury high performance cars, specially build for safety and all weather driving conditions.
Volvo V40

The Volvo V40 is based on a family car hatchback, but it gets a slightly raised ride height and toug...

£136.48

---
Volvo S60

The brand new Volvo S60 is available in five-speed manual, automatic or geartronic transmission and ...

£139.98

---
Volvo C30

These are brand new Volvo C30 cars, brand new models, with several colour options from Leather heate...

£142.55

---
Volvo V50

The New Volvo V50 is compact, but with a definite large-car feel. Practical and secure yet enticing....

£149.66

---
Volvo V60

The brand new Volvo V60 depending on the model comes with convenience packs and heated front seats, ...

£166.59

---
Volvo S40

A cracking medium-sized saloon that's comfortable and quiet; the centre console in the Volvo S40 is ...

£170.85

---
Volvo S90

The Volvo S90 could be the breath of fresh air from Scandinavian that youíve been looking for. Two 2...

£187.33

---
Volvo XC40

This latest Volvo XC40 SUV has similar front and rear lights to the overall companyís other models, ...

£204.92

---
Volvo C70

The brand new Volvo C70 convertible coupe comes in Silver or Black with Black leather and Winter Pac...

£233.14

---
Volvo V70

Brand new Volvo V70 range including a D5 diesel, the powerful T5 and an even more powerful V70 R, wi...

£245.78

---
Volvo XC60

The Volvo XC60 is a very practical and safe family car. Itís classy, tough and good to drive on and ...

£269.59

---
Volvo XC90

The Volvo XC90 was voted the best car, best AWD 4x4 of the year in the UK. Praised for it's ride and...

£325.65

---
Choice from something economical for city and motorway driving, like the V40 or SUV version Cross Country, to something more bigger like the XC40 or XC60 on contract hire, or on a PCP lease.
Time4Leasing offer exclusive deals, pay no deposit, brand new or approved used Volvo cars, lowest rates and part exchange. The Volvo range of luxury vehicle leasing offers are suitable for business and personal users.

Latest New Models

Best Deals in Stock


1 to 2 Weeks Delivery
Time4Leasing Customers Love Our Services
More than just a vehicle leasing broker. Deals include 0% deposit leasing and finance for brand new and approved used cars. Plus we offer solutions for individuals with a good and bad credit history past.

Another Happy Time4Leasing Customer



You are in good company as we always aim
for 100% customer satisfaction